"Getaway" Blu-ray/DVD Combo Pack!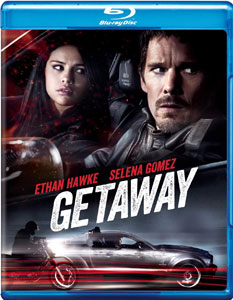 GETAWAY

On DVD, Blu-ray and Video On Demand November 26

Experience the gritty, heart-pounding action thriller "Getaway" when it arrives onto Blu-ray, DVD and Digital HD on November 26 from Warner Bros. Home Entertainment. Starring Academy Award® nominee Ethan Hawke and Selena Gomez, "Getaway" is the story of a former race car driver who is pitted against the clock in a desperate, high-speed attempt to save the life of his kidnapped wife.

Directed by Courtney Solomon ("An American Haunting"), "Getaway" stars Academy Award nominee Ethan Hawke ("Training Day," "The Purge," "Before Midnight"), actress and international music sensation Selena Gomez ("Spring Breakers," "Wizards of Waverly Place") and Academy Award winner Jon Voight ("Coming Home," the "National Treasure" films).

"Getaway" Blu-ray and Standard Definition DVD contain the following special features:
· Crash Cams
· Destroying a Custom Shelby
· Metal and Asphalt
· Selena Gomez: On Set
· The Train Station

Enter to win!

Thanks for visiting EDGE!
Click here to learn about the 365 Gifts Promotion »